Let Your Voice Be Heard — Carmela and Dr. Ted
Follow Carmela and Dr. Ted throughout their surrogacy journey in Mexico. Carmela started an independent surrogacy video blog on YouTube and we will be sharing the videos as well for you to see. It is stories like this that help us keep focused on what really matters — Your Dreams!
1 – Our Surrogacy Journey Begins
Jul 4, 2013
After a long road of miscarriages and medications, our Pittsburgh couple — Carmela and Dr. Ted begin their family building process via surrogacy in Mexico.
2 – Embraced With CARE
Jul 5, 2013
Embraced by the CARE team, Carmela and Dr. Ted walk us through the early stages of their surrogacy journey in Mexico at the CARE Surrogacy Center.
3 – First Surrogacy Appointment at CARE
Jul 6, 2013
Carmela's arrives at her first doctor appointment with the CARE surrogacy doctor in Mexico City. She receives her first hormone injection and discourses the treatment plan for the following weeks.
4 – On the Path to Parenthood — Exciting News
Jul 8, 2013
Carmela gets feedback from the CARE Surrogacy Center — excellent news that her body is responding well to the medication.
5 – Timing is Everything with CARE
July 10, 2013
Carmela embarks on another doctor's appointment and receives amazing news that healthy follicles are growing.
6 – More Exciting News — Healthy and Happy
Jul 12, 2013
Great news again from the CARE doctors, Carmela's follicles continue to grow and are healthy. Carmela's husband, Dr. Ted, joins her in Mexico.
7 – Finding Hope with CARE Surrogacy
Jul 18, 2013
Carmela and Dr. Ted find out how many healthy embryos were successfully fertilized.
8 – A Gratifying Day for Our CARE Family
Jul 21, 2013
Carmela and Dr. Ted share touching information about their surrogate and the exhilarating news about their embryo implantation before leaving Mexico City.
9 – Quality CARE with a Warm Touch
Carmela and Dr. Ted share with us how their CARE experience and Mexico City have warmed their hearts.
10 – Commitment to CARE — Staying Hopeful
Jul 28, 2013
Carmela and her husband Dr. Ted share the latest information from the CARE medical team and give us a closer look at the REAL and RAW emotions of their journey with surrogacy in Mexico.
11 – Expecting with CARE
Jul 31, 2013
Carmela surprises Dr. Ted with news from the CARE doctors — are they pregnant?
12 – Baby On The Way
Aug 12, 2013
The Steliotes share with us more exciting news on the pregnancy.
13 – Tiny Heartbeats
The Steliotes share their baby's progress — sounds of a new life.
14 – The Precious Arrival
Feb 15, 2014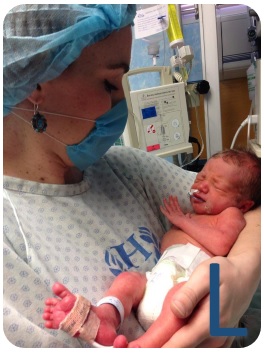 Introducing… a Little Bundle of Joy… Born on February 15, 2014…
Congratulations to Carmela and Dr. Ted.
"From The Moment They Placed You in My Arms, You Snuggled Right into My Heart"
Thanks for letting CARE be a part of your beautiful family…
15 – The Bond We Shared
Mar 13, 2014
Southeastern Mexico news channel, Present Journal, discusses the surrogacy journey that Carmela took with CARE Surrogacy Center and the birth of her precious newborn.
16 – Coming Home
June 18, 2014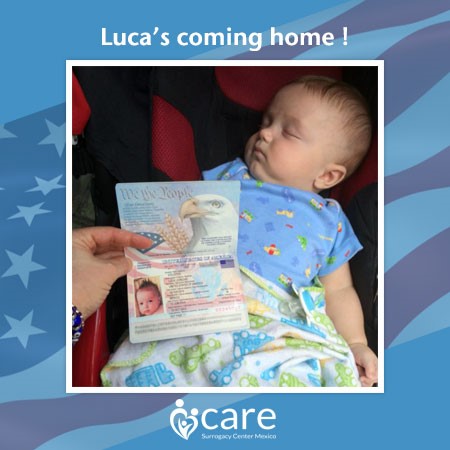 With advanced preparation and consistent planning by the CARE Surrogacy team, the day has finally arrived. Embraced by a sense of comfort and control…and an official US passport — Baby Luca is ready to travel home to the United States.